SAVE TIME & EFFORT for your metal/wood drilling project!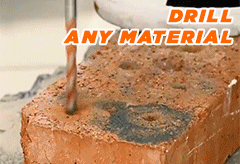 Ultimate Drill Bit is made of industrial-grade 6542 HSS Carbide and durable alloy to perform excellent high-speed drilling. With W-type slot design, it allows easier chip removal and reduces resistance, resulting in smoother drilling.


Ideal for everyday drilling on multiple materials including steel, alloy, tile, concrete, brick, glass, plastic, wood and more.
FEATURES:
Premium material
6542 HSS Carbide and durable alloy with reinforced head prevent bit cracking and provide longer life.
Wide usage
Strong carbide tip with spear pointed design can easily drill through various materials like tile, concrete, brick, glass, plastic, wood, etc.
Easy chip removal
W-type slot design provides low resistance, resulting in faster & smoother drilling and easier chip removal.
Anti-slip shrank
Triangular shank allows drill bits to be held tightly and prevents slip.
4 Different sizes
10 x 6mm(1/4"), 10 x 8mm(5/16"), 5 x 10mm(3/8"), 5 x 12mm(1/2").
Universal
Can be installed in any standard electric drills.
SPECIFICATIONS:
Material: Hard Alloy
Blade Top Corner: 135°
Blade Diameter: 6-12mm
PACKAGE INCLUDES:
1 x 6mm drill bit OR
1 x 8mm drill bit OR
1 x 10mm drill bit OR
1 x 12mm drill bits OR
4 x drill bits (6+8+10+12mm)
RECOMMENDATIONS:
When drilling hard materials such as glass, porcelain floor tile, marble, granite, etc, please use water for lubrication.