Lounge with ease and keep your drinks/snacks/remotes/phone within easy reach! Good replacement for huge side end table, great for home with limited space, apartment, dorm and RV!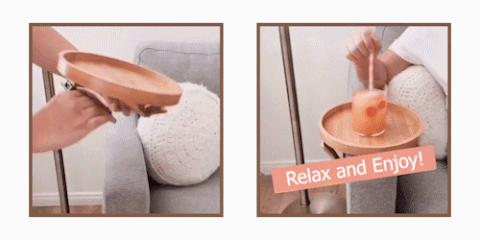 When you're lounging around at home, chances are you want a cup of coffee, a glass of wine, or a bowl of popcorn by your side. Netflix and binge-watching movies just isn't complete without your go-to snack and drink, right? But if you're in a small space, particularly an apartment, having an end table or two isn't always an option. That's where the genius couch arm table or armrest table comes in
FEATURES:
🏠 BEST CHOICE FOR DAILY ACTIVITIES: The tray is installed on the armrest to provide you with a convenient place for your mobile phone, snacks, breakfast, books, TV remote control, coffee, hamburgers, etc. You can get what you want easily, which is very convenient to your life.
🏠

SUITABLE FOR ALL COUCHES: The first thing you notice about this foldable armrest tray, is the heft of the hinge and clamp of the spring. It creates a wide grip for the arms of medium to wide arms. Try this Durable 100% Bamboo Armrest Tray and see!
🏠FOLDABLE DESIGN: This sofa table not only take up less space than regular tv trays for eating, but it also folds into itself to store under the couch when not in use! And while you shouldn't lean on it, you can enjoy a regular sized dinner plate on it!
🏠EASY TO USE: This armrest table is easy to use! No other tools required, install and uninstall in a second, just clip-on and off. Also design with anti slip rubber grips to stop your tray from rolling around so you can sit your drink next to the remote without worry.
SPECIFICATIONS:
Made of durable natural bamboo, which grow faster than wood and known to be stronger and more beautiful than regular wood
Size about 25*25 CM
PACKAGE INCLUDED:
1PC/2PC/3PC Sofa Armrest Tray
NOTES:
Please allow 0.5-1 inch error due to manual measurement