Introducing the best product for tracking your outdoorsy pet -
Smart Pet GPS Tracker!
Finding your dog or cat has never been easier.
Regardless of when or where, always stay connected to your dog or cat by viewing real time position through the app. You can get notified immediately when your pet leaves a defined safe distance! The pet tracker will record the last seen position of your pet after disconnection.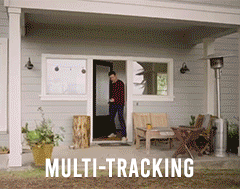 It can be also used as a remote camera shutter for you to leave some beautiful photos with your loved pet! What's more, you can connect up to 8 trackers in one phone at the same time - apply it to your pets, children, vehicles, elderly, bicycles, assets, valuable items and more!
Never lose your pet again! Don't hesitate to grab yours!
🔎【ANTI-LOST KEY FINDER】The smart key tracker is a great gadget to alert you when you are about to forget your belongings. Pair to the app and keep it running at back-end, your phone and key locator will both ring to alert you once it is disconnected, perfect for traveling to avoid losses.
🔎【PORTABLE & CONVENIENT】The smart key finder is designed in compact size and easy to carry around. You can put it in your wallet as a wallet finder or in the bag with your phone as a phone finder or as any other item finder, bringing convenience wherever and whenever you are.
🔎【LONG BATTERY LIFE & STYLISH】The Bluetooth key tracking device is powered by CR2032 battery with super long standby time over 10 months and can be replaced easily for long-term use. Delicate and elegant appearance makes it look like an art of pieces.
🔎【FIND YOUR ITEMS】The key locator is a great gadget to help you search and locate items you always misplaced. Simply attach it to your luggage, wallet, keychain or pets. If you fail to find your belongings, double click the button on the app and it will make your phone beep to assist you to find items quickly and easily.
🔎【COMPATIBILITY】You can check the map location when you disconnect the anti-loss device on your phone; support iOS system and Android 4.3 or higher (require Bluetooth 4.0). You can download the App "iSearching" from the App store, or scan the QR code that comes with the manual to download the software.
FEATURES:
Locate Your Pet
You can check the real time position of your pet & find out the last position after disconnection.
Automatic Two-way Reminder
When the distance between the mobile phone and tracker exceeds the set range, both of them will simultaneously issue an alarm reminder. This function could be turned on in setting.
Alarm Function
Open the mobile app and click "alarm". The GPS tacker will sound an alarm. The sound will lead you to find the your pet.
Remote Camera Shutter
Connected to the mobile phone via Bluetooth, it can be used as a remote control button as the shutter of the mobile phone. Leave a beautiful moment with your pet!
Multi-functional
Track pets, children, vehicles, elderly, bicycles, assets, valuable items or anything you want to track.
Download App For Free
Download the app called "iSearching" (free to download from Google Play Store or Apple Store) before using the tracker.
Replaceable Battery
4.0 bluetooth low-power chip. The tracker uses a replaceable CR2032 button battery, standby for up to 6 months.
SPECIFICATIONS:
Material: ABS Plastic
Size: 52 x 31 x 11mm
Color: Black/White/Green/Pink/Blue
PACKAGE INCLUDES:
1 x Smart Pet GPS Tracker