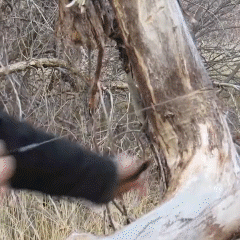 A smart, packable and light weight hand powered chainsaw that is easy to pack in your backpack or attach on your belt. It is a perfect companion on your hikes, in the lodge, in your prepping kit, SUV, snowmobile or on your mountain bike.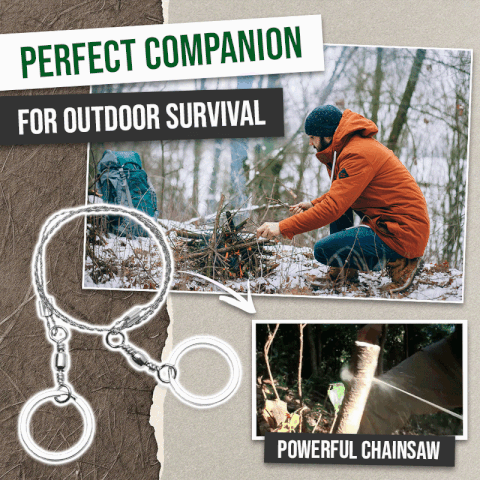 You never know when you will come across a fallen tree or when you need to cut wood for making a bonfire. The chain is 3 cm long and made of heat treated stainless steel with 33 bi-directional teeth which ensure maximum performance when in use.
Features
Multi-Purpose Portable Pocket Saw: 21" Metal Wire Saw, made of high strength stainless steel wire, 4-strand braided chain cord. The saw teeth is sharp and tight, can be used to cut wood ( no more than 3 inches ), plastic, bone, rubber and soft metal.
User Friendly Finger Saw: With metal handles pulling ring ( Diameter= 1 inch ), 360 degree swivel points, fit for one finger handling.
Lightweight & Compact Size: Folding design with carabiner key ring for better packing and taking along or store. Only 0.7 oz, the total rope saw length 29".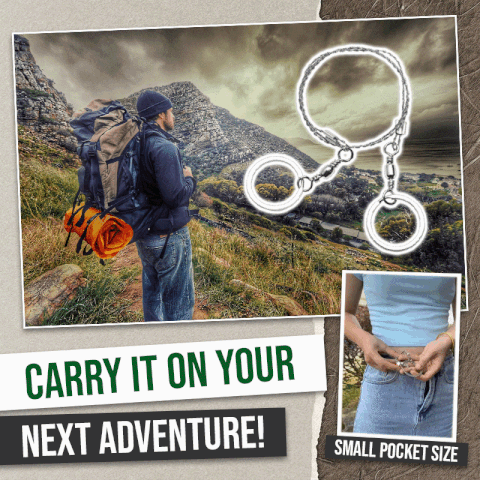 Essential Emergency Survival Saw Tool: This wire saw is perfect for camping, hiking, hunting and fishing. Quickly saw small to medium sized tree limbs into usable wood for a lifesaving fire, shelter or to build a rescue signal fire.
Specification
Material: 600 mm German Stainless Steel
Structure: Multi-Strand Wire + Hoop + Pull Ring
Size: Approx 22" ( 57 cm )
Pull ring diameter 1.18" ( 3 cm )
Weight: 0.60 oz ( 17 g ).
Package Included
1 x Portable Multi-Purpose Pocket Saw