Portable Mini Hand Electric Screwdriver
Integrated Design
Electric/manual mode, which can be switched as required.Screw out: loosen the screw manually first, and then screw out completely in electric mode. Screw-in screws: first, screw in the screws in electric mode, and then tighten them manually.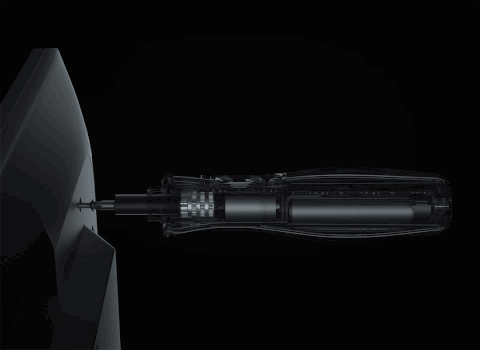 Small Body, Long Endurance
Innovative integrated screw-free design. High-quality engineering plastics, lightweight and durable. Fine UV paint technology, delicate and nonslip.Small and exquisite, portable and easy to carry. The batch head is made of high-quality S2 alloy steel, with hardness up to 60HRC. With the bits box, it is convenient to store.
Comfortable Holding Handle
The fuselage grip is only 29.7mm at its narrowest and is specially designed for Asian hands. The fuselage has a net weight of only 185g. The handle is smoothly attached to the shape of the hand, which is easy to apply force. When placed, it can always keep stable, not easy to roll or slide.
Multiple Security Protection, Low Power Prompt
Built-in 1500mah lithium battery, more than 180 screws can be driven when fully charged. Over-current, over-voltage, over-temperature, and short circuit protection in charging, more secure use. Soft rubber tail cover can effectively prevent dust from entering the charging port. When the power is lower than 20%, the indicator light will flash for 5 seconds when pressing the key.