HOLDS YOUR KNIVES SECURELY AND IN EASY REACH!
The Magnetic Knives Holder is designed specifically to hold any sets of knives firmly, without slipping or shifting - not even a hint of a wobble! Calibrated to securely hold knives of many weights with ease, it can hold the largest, heaviest of your knives to the smallest and skinniest ones.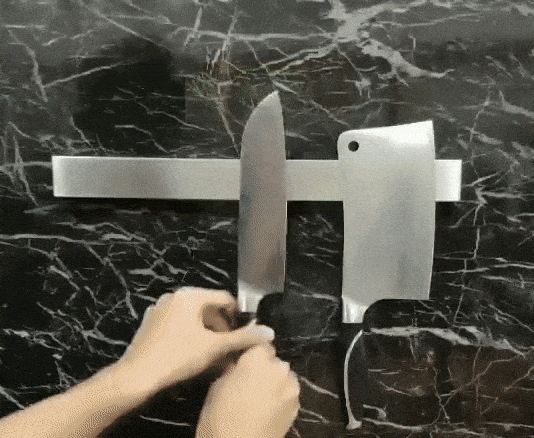 The magnetic holder is designed to "float" on your wall, hiding the magnets and mounting screws. The simple and clean installation allows this innovative product to become a part of your kitchen décor. Very powerful, yet it only takes a gentle tug to release any knife for use!
FEATURES AND BENEFITS
UPGRADED VERSION: The two ends are completely sealed by laser welding, which makes them moisture-proof, waterproof, and rust-proof.
SIMPLE & ELEGANT MODERN: Designed with a sleek, elegant appearance, the flat, space-saving magnetic holder has a modern design that fits into any kitchen style.
CLEAN YOUR KITCHEN COUNTER & DRAWERS: Helps you get rid of your old bulky knife block which takes up precious counter space. It also helps you keep your knives off the counter and prevents the trouble of an overflowing drawer. All your knives will be visible and within reach - easily grab the proper knife and get to cooking!
PREMIUM MATERIAL & POWERFUL MAGNET: Made of SUS304 stainless steel material, enhanced neodymium iron boron magnet, it's much lighter than a traditional magnetic knife holder, and has better magnetism!
EASY TO INSTALL: You don't need to be a carpenter to install this magnetic knife block. It comes with mounting hardware and easy-to-follow illustrated instructions, so you'll have it installed in a flash!
SPECIFICATIONS
Material: Premium Stainless Steel
Size: 30cm | 40cm | 50cm
Weight: About 350g