MEET ALL YOUR OIL AND VINEGAR DISPENSING NEEDS!
The Glass Measuring Oil Dispenser can monitor oil intake in real-time. Don't worry about putting in too much oil carelessly that may potentially affect your health, it has measurement marks that precisely control oil intake. Also suitable for vinegar, cooking wine, or any other liquid seasonings you like!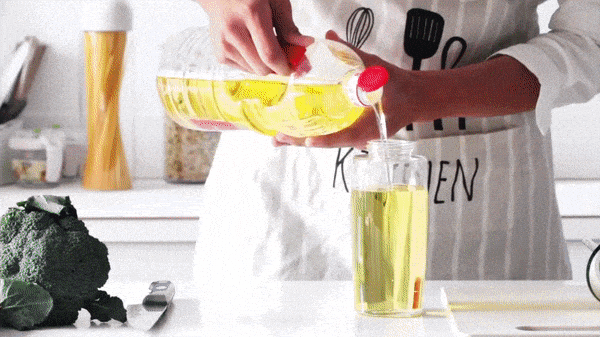 The integrated pump is very easy and intuitive to use. All you have to do is to pump up the necessary quantity of dressing to the measuring top and add it to your meal. The drip-free spout will not stain the bottle body and the kitchen countertop keeping your kitchen clean and tidy!
FEATURES AND BENEFITS
ENJOY DRIP-FREE POURING: Hating that your hands are greasy every time you need oil to dress salads or spill over the kitchen counter? You can now eliminate the hassle of dressing salads and add a distinct flavor to your meals. Designed with a drip-free spout, it ensures mess-free pouring without spilling, sloping, or leaking.
EASY TO CLEAN: Forget about wasting a lot of time washing the dispenser. The premium clear glass is easy to clean. Simply hand wash the pump and leak-proof top tip with warm water and soap or wash it in the dishwasher, it's totally safe!
HAVE CONTROL OVER YOUR POURING: Controlling portions of oil is important to get your own touch of flavor for your salads and meals. Come equipped with an integrated pump and measuring top that helps you control oil and vinegar dispensing on your food.
BETTER PRESERVATION: Virgin olive oil and balsamic vinegar are best preserved on glass bottles than plastic since oil and vinegar can absorb PVC's from the plastic. They are stylish and convenient to use, and safer and better for storing liquids, thus making your foods healthy and toxic-free.
SPECIFICATIONS
Material: Glass | Rubber | Plastic
Size: ‎285mm x 67mm
Color: Red | Silver