This buckle silk scarf can quickly create a look and is an ideal accessory for everyday outfits!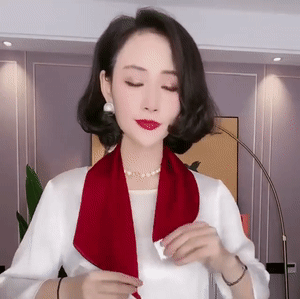 SILK SOFT
Flash diamond scarf, quick to wear.
OFF-SEASON PROMOTION
MAIN FEATURES
[Fashion Accessories]
This silk scarf is the perfect accessory for any outfit. Comes with flashing diamond buckle for quick styling.
It can be used as a stewardess scarf, unique tie, handbag accessories, turban, hat decoration, wristband, etc. You can also tie a scarf according to your own ideas.
[Suitable For Any Occasion]
This silk scarf can be used all year round, sunscreen in the sun and keep warm in cold weather. Can adapt to various occasions, whether it is business, office, conference, or daily life, party, leisure, etc.
[Soft Material]
Made of high-quality silk, it is soft, smooth, shiny, skin-friendly, non-allergenic, and breathable. Healthy and environmentally friendly, no pollution, no peculiar smell.
[Perfect Gift]
An ideal and thoughtful gift for your beloved and special person in celebration of birthdays, anniversaries, Christmas, Mother's Day or other special days. I believe this will be a perfect gift.
SPECIFICATIONS
Material: Silk
Size: 12 * 70cm
Color: Gray, Purple, Beige, Leather Pink, Black, Red
Package Includes: 1 * All-Match Silk Scarf
NOTE
Care of silk fabric. General precautions:
Hand wash only
Hand wash with cold water.
Do not tumble dry.
Do not use detergents that contain enzymes and brighteners.
Ironing silk:
To iron the silk,please iron your scarf with the "silk" settings.