Features:
✿ Include: (18 colors available) One-step UV gel pens, Capacity: 5ml/pcs

✿ 3 In 1 Design:

Do not use the base/top coat anymore, saving money & saving time when compared to traditional gel polish, but the charming color remains the same and full of pure color.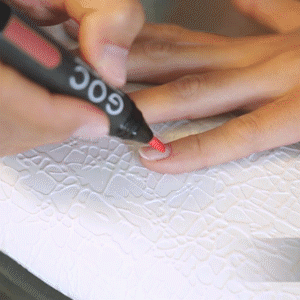 ✿ Easy to Use: Pen shaped appearance design, portable and easy to control. Just need to twist the bottom and the color comes up through the pen and onto the brush. Then the gel will come out, drawing your nail,

Cure under UV lamp/LED light for the 90s.
✿

High quality: NON-TOXIC and Harmless Resin, with the low smell and good tenacity. Suitable for natural nails, UV gel nails, false nails, acrylic nails, nail tips, etc.

✿

Suitable crowds: All the people who love beauty and nail art, especially suitable for beginners and elegant women, whatever home use or professional nail salon, making your nails more beautiful and charming.
PROFESSIONAL USAGE

Step1: Trim nail surface, prep and push back cuticles, clean and dry your nails.

Step2: Apply a thin layer first and cure under an LED or UV nail dryer lamp. Apply the second layer color gel, also thin. Cure under UV lamp/LED light.

Shiny finish, enjoy your 7-14-day manicure! Or longer depending on what you do as far as work/chores go.
Reasons for choosing:

Perfect for providing your own beautiful nail art design on finger or toenails, good begging for beginners.
Full of pure color, makes you look elegant and charming.
Saving money &Saving time: All-in-one gel nail polish don't need the base coat and top coat anymore, it saves up to 60% of your time when compared with three-step gel polish.
Pen shaped appearance design, more creative and funny.
NON-TOXIC and Harmless Resin High-Quality Gel Polish with Low Smell.
SPECIFICATION:
Brand: Vrenmol
Name: One Step Gel Nail Polish Pen(3 in 1)
Capacity: 5ml\pcs
Quantity: 1 pc
Suitable Lamp: UV/LED Nail Dryer Lamp.
NOTE:
The actual colors may be slightly different from the picture because of the lighting and computer color.
THE PACKAGE CONTAINS:
1 * One Step Nail Polish Pen(18 colors available)